Roll over image to zoom in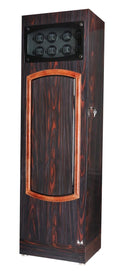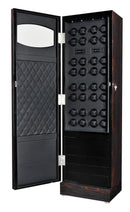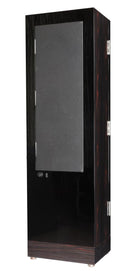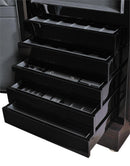 Description
This Volta 32 watch winder features a rustic rose wood / ebony finish with a black leather interior and is part of the Rustic Collection.  The front door features lining with genuine leather.  The inside portion of this winder is lit by white LED lights that beautifully showcase the watch that is mounted onto the winder.  The winder features 5 additional drawers which provide storage for watches, jewelry, or other valuable items.   This winder can be locked using the supplied key to ensure the safety of your prized possessions.  All of the metal hinges on this winder are made in Germany, providing an unmatched level of quality.  Each of the watch mounts is powered by its own high quality and ultra-quiet Japanese Mabuchi motor.  The winder is powered by a supplied 110/240v adapter.  To control the motor of the winder, you will find 2 LCD screens on the inside of the winder.  Each LCD screen will power 16 of the winders.  Each LCD screen has a battery slot which prevents you from losing any settings during a power outage.  Using the buttons to the right of the screen, you can control the revolution direction and the speed (TPD) of the winder.  You are able to select a clockwise setting, a counterclockwise setting, or a combination of clockwise and counterclockwise revolutions.  With this Volta winder, you are able to select a speed (TPD) setting of 650, 900, 1350, or 1800 revolutions, so you will definitely be able to find the right setting for your specific watch.   This Volta winder features speed winding and sleep mode options.  The speed winding options is available for those instances when your watch has completely died and you need to repower it.  The sleep mode option allows you to mimic normal day to day wear as the winder will not work for a period of up to 16 hours per day. 
Features:

Exterior Color : Ebony/Rosewwod
Interior Color : Black Leather  
No. Of Watches : 32  
No. Of LCD : 4  
LED Color : White
Dimension:  24" x 14" x 71.75" 
Payment & Security
Your payment information is processed securely. We do not store credit card details nor have access to your credit card information.