Roll over image to zoom in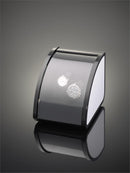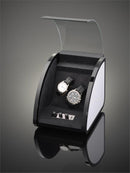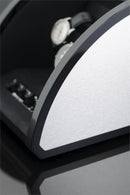 Description
The Elma Motion housings are made of exclusive and high-quality materials, fully handmade in Germany.
The Elma Motion Style units come in various finishes: matte black, glossy piano lacquer, Macassar, brushed aluminum or carbon fiber.  The stylish design and the excellent manufacturing quality perfectly suit any high-class interior decoration. A special and very modern model is the white high-gloss housing with white leather applications on the sides.
The swing-top cover of all watch winder models are real glass and allow the perfect presentation of the valuable pieces. The cover is silicone-cushioned and slides shut with a touch of fingertip.
Features:
Sleeping Phase: several hours of idle time per day allow the main spring to unbend and prevent unnecessary strain on the winding mechanism
Adjustable number of revolutions: 650-1800 revolutions per day guarantee the optimum winding rhythm
Bi-directional movement: clockwise, counter-clockwise, and alternate between clockwise and counter-clockwise.
Speed winding: ensures that a sufficient power reserve will be built up in a short period of time
Payment & Security
Your payment information is processed securely. We do not store credit card details nor have access to your credit card information.