Roll over image to zoom in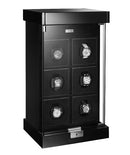 Description
Eilux Six Automatic Watch Winder Tower- Piano Black
This Eilux six automatic watch winder is a brand new design. It can on batteries (C size) which lasts up to 8 months or operate by AC power.
This model is perfect for automatic watch owners who would like to beautifully display your watches in your bedroom or office!
It also has multiple settings to accomodate most brands and models of automatic watches.
Features:
Made of black wood finish with clear display
Black interior with adjustable watch pillow
Watch winder motor has multiple settings
Runs on batteries (C size) up to 8 months or included AC adapter
Pilot light cycle indicator
Storage area for four watches and pocket for accessories on top
Dimensions: 12 x 9.5 x 23 inches (L x W x H)
Payment & Security
Your payment information is processed securely. We do not store credit card details nor have access to your credit card information.