Roll over image to zoom in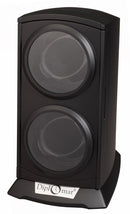 Description
This Diplomat Double automatic watch winder with built in MULTI SETTING SMART IC TIMER, rotates clockwise, counter-clockwise or alternate it will work with all kind of automatic watches. Vertical design helps save space and looks great in the bedroom or office. This automatic watch winder will keep your automatic timepieces wound and ready to wear when you need them. Comparable watch winders sell for well over $350 in fine retail jewelry stores, now you can have one of the finest automatic watch winders at a fraction of that cost. World's finest watches manufacturers use automatic movement of their watches like Rolex , Patek Philippe, Breitling, Movado, IWC, Tag Heuer as well as many other known brand name watch manufacturers. Today's most extravagant timepieces come equipped with the world's most advanced automatic, perpetual movement. To avoid setting the time on these watches daily, use an automatic watch winder to keep constant movement on your watch when you're not wearing it. Great for watch enthusiasts that own multiple watches and change watch styles every couple of days. Top selling gift item!
Built in multi-setting Smart IC Time program settings:
 a-Auto Rotate 33 Seconds, Resting 12 Minutes (342 Turns per day)
 b-Auto Rotate 10 Minutes, Resting 90 Minutes (864 Turns per day)
 c-Auto Rotate 30 Minutes, Resting 3 Hours (1080 Turns per day)
 d-Auto Rotate 1 Hour, Resting 3 Hours (2160 Turns per day)
Switch from Clockwise to Counter-Clockwise at the flip of a switch,
Note: All Switches and adjustments are on the back of the winder.
Includes AC adapter with 5 foot cord (DC/100-240V)
Winder Weighs only 2 pounds & Measures 9.25" H X 5.5" W X 6.75" D
Color: Black

Winder: 2 watches

Black interior
Payment & Security
Your payment information is processed securely. We do not store credit card details nor have access to your credit card information.